Local Experience. Global Exposure.
Atlanta real estate broker
Did you know 51% of people have regrets about the real estate process and 68% don't trust real estate agents?*  We were stunned by those statistics too and believe it's time to change the game.  
With more brand awareness** than any other real estate brand, Century 21 Real Estate is poised to make these changes.  To do this, we are reinventing what the CENTURY  21® brand means in the hearts and minds of those who are buying, selling and working in real estate today.
This starts with our new mission – to defy mediocrity and deliver extraordinary experiences – and comes to life in our identity as a brand and the services we develop for our system members.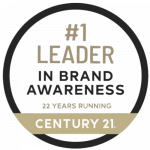 Total Century 21 Homes sold
Total C21 offices worldwide
why should you choose Bob for your REALTOR®?
what your home is really worth?
DON'T SETTLE FOR AVERAGE.